• Australia 277-9; Sussex 220 – Australia win by 57 runs
• Marcus Stoinis's steady hundred sets up victory
There are some sporting spectacles where crowds are attracted more for the occasion than the sport itself. This one-day tour match between Sussex and Australia, innocuous enough when the fixture was first scheduled, was one such occasion. Sometimes they are drawn to the presence of a great player, or one on the precipice of a major landmark. This match, however, was notable not for who was here but who was not.
Coming less than three months after that incident with the sandpaper in South Africa, Australia's bid to rebuild their team, and reputation, begun with a trip to the seaside. It was a trip, however, without the former captain Steve Smith, his then-deputy David Warner and Cameron Bancroft, all serving bans for their involvement in the ball-tampering affair. Injury has also put paid to Australia's vaunted seam attack of Mitchell Starc, Pat Cummins and Josh Hazlewood.
The feeling therefore was that Australia are here for the taking and this match, in front of a capacity crowd and less than a week before they take on England, was a chance for a first glimpse. Australia ran out 57-run winners but England, who top the one-day international rankings, will not feel too threatened.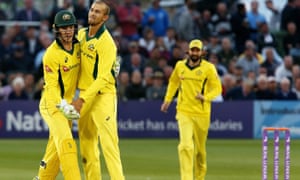 Ashton Agar celebrates taking the wicket of Sussex's Laurie Evans, one of three scalps for the Australian spinner. Photograph: James Marsh/BPI/Rex/Shutterstock
The opening batsman D'Arcy Short, whose struggles against spin continue, provided some entertainment at least as the comedy villain for Thursday night's stage. To the crowd's delight, and just at the point of the evening when the beer taps become locked at right-angles, Short, at square leg, dropped his opposite number Phil Salt to identical shots in consecutive overs. Salt duly peppered the ball to all parts for a 33-ball half-century, which he brought up with consecutive sixes, before succumbing to a yorker for 62.
No one inside Australia's top eight exceeded a run-a-ball strike rate, although Aaron Finch and Marcus Stoinis had at least shown earlier that not all high-quality Australian batsmen have been exiled to Canada. They compiled steady, if not stellar, knocks of 78 and 110 respectively to steer Australia to 277, an ultimately comfortable total.
A mid-order collapse, in which four wickets fell for 13 runs inside five overs, will worry the visitors, however. "It has been a bit of a pattern I guess so that's something we are going to try and fix," said Stoinis, the game's sole centurion. "I think we feel the pressure of a few dot balls. You've just got to bat your way through it. Obviously everyone is a good player, and for the team it's important that if you get in you take the game as deep as possible."
Ashton Agar's three wickets will provide some encouragement, but the world champions know there is much to improve, including their fielding – four catches were dropped.
"It's probably not something we've got to work on now," said Stoinis. "We work on it every training session. These things happen. First game back, it's no stress." Stoinis was in an equable mood. Asked if the message from Justin Langer post-scandal was to go out and have fun, he shrugged. "We haven't spoken about it too much to be honest," he replied. "It's more the fact that we are so lucky to be playing cricket, we are in these [Australian] clothes, we are with a group of mates, travelling through England, playing at beautiful grounds against good opposition and going into a big series."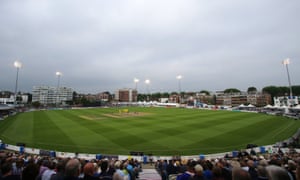 The Hove crowd gave the touring Australians a relatively mild reception following the ball-tampering scandal. Photograph: Mark Kerton/PA
From an English perspective, the return of the right-arm seamer Jofra Archer to the ground where he made his first-class debut against a touring Pakistan side two years ago also brought him three wickets on a placid pitch. After his globetrotting exploits in the Big Bash League and Indian Premier League, Archer's performance will only strengthen the calls to accelerate his England qualification.
During the buildup there had been an air of intrigue as to how the tourists would compose themselves in front of a potentially hostile crowd. But a sunny weekday afternoon here was not the place for such a reception. Hove – or "Sussex by the Sea", the county's affectionate nickname and moniker for the charming fairground anthem which accompanied its players onto the field – is not known for its antagonistic crowds.
Most punters, blazers on, beer in hand and gently jostling between the heaving hospitality tents, were here for a good time. On a day where most of working age are otherwise engaged, the atmosphere was one of a typically relaxed county cricket crowd: more convivial chatter than hostile environment. It was not until 8.30pm that any sandpaper jibes started echoing around the ground. Even then it was only really the alcohol working its magic; "If you love sandpaper clap your hands," is hardly the most original line, after all.
Not that Australia were too fussed. "The banter was pretty good that I heard," Stoinis said with a laugh. "You could hear them all singing, it was all in good spirits."
It is lucky perhaps for the tourists that this new era has begun not on Australia's shores, but almost 10,000 miles away, in mid-winter back home and at the height of the Australian Rules Football season: they have avoided the glare of their home media. Like their performance on Thursday however, Australia realise that changes in perception, and evidence that they truly are a team transformed, will not come immediately. Slowly but surely, and with likely a few wobbles in the middle, they must build the foundations for an innings, and a future, far bigger.
• A version of this article was originally published in The Guardian on 7 June 2018. To access the original please click here.